I went to do a Big Apple Adventure training event in Johnson City, TN recently. We had a great turnout and there was a ton of excitement about all the Lord has in store for the summer. Well, we didn't realize that HE had something HUGE in store for us that night as well!
The morning Jeremy (my good buddy and road manager) and I left, I found out my mom's sister, Linda, was having surgery to remove a malignant brain tumor that day. All through the day I was getting text reports from my cousins saying things were going great. I had total peace that the Lord was going to deliver her through the surgery just fine.
We arrived in Johnson City; I led the opening rally then went to teach the music class. During that class the Holy Spirit fell and we began to pray for one of the people in the class who was going through a difficult time.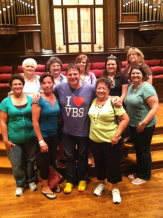 Right after the prayer, I got a text saying my aunt was hemorrhaging and the doctors couldn't get the bleeding to stop. She is a carrier of hemophilia. I immediately asked the class to stand with me in prayer for her.
Afterwards, I left the class, went in the bathroom and began to ask the Lord to help me not be afraid or panic… to let my "faith and life connect" in this situation. He reminded me about the peace I had felt earlier in the day.
As I walked back into the sanctuary to do the closing rally, I gave Jeremy my phone. I knew that if bad news came, I would collapse on the stage; so I told him to keep it and if bad news came, I would take it when we finished.
I led the crowd in "Love You More." Suddenly, I felt the Lord tell me to stop and have everyone pray with me for Aunt Linda. I stopped, told them all the story, and we began praying for a miracle… pulling on the hem His garment, asking the Lord to stop the hemorrhage just like He did in the Bible.
As soon as we finished I paused for a few moments. I looked up to Jeremy in the sound booth to let him know to start the next track. He was looking at my phone – my heart stopped for a moment.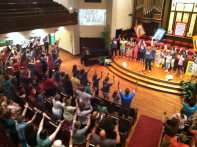 Then Jeremy looked at me with the sweetest smile! He leaned out of the booth and said, "Your cousin just texted…the bleeding has stopped!" The whole place erupted in praise. People were shouting, crying and clapping! We had just prayed for a miracle and IT HAPPENED!
There were several kids there and their faces lit up with amazement. I told the crowd it was time to go to the Throne Room and thank the Lord for His goodness and faithfulness. I headed to the piano and we had a beautiful time of "soaking" in His presence.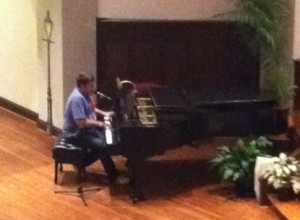 I called my cousin. She told me they still didn't know if there would be any brain damage or if Linda would have any use of the left side of her body. So Jeremy and I prayed some more in the car driving home. About 20 minutes later my cousin called me back to tell me Linda was awake talking to them.
They told her how worried they had been and she said, "Don't be worrying about me; I told y'all I was going to be fine!" She is s woman of great faith and joy!
She is now out of ICU and doing great. Thank You, Lord!
Another lesson learned in letting "faith and life connect!"
———————
Jeff Slaughter is a songwriter/worship leader who has been a part of the Nashville music community for 25 years. Jeff also writes for his own blog, www.jeffslaughter.com.